I thought I might share the recipes I am making on Sundays when I have more time and the week has slowed down. Realize that I take the recipes I find and I mess with them so much that they are unrecognizable from the original recipe. Maybe that's why Nana-made recipes are so hard to duplicate?
picture from myrecipes.com
I am a salad dropout! It is hard for me to think beyond a little bunch of greens, tomato and onion. Don't even ask me to make my salad dressing... So I am trying to branch out and find tasty options.
While making this I discovered that Cobb salad was the invention of a restaurant manager, Bob Cobb, at The Brown Derby restaurant in Los Angeles in 1937.
". . . its origin was quite by accident. One evening the original owner, Robert H. Cobb, went to the icebox and found an avocado, which he chopped with lettuce, celery, tomatoes, and strips of bacon. Later he embellished it with breast of chicken, chives, hard-boiled egg, watercress, and a wedge of Roquefort cheese for dressing, and the salad was on its way to earning an international reputation."
Silly me, somehow I thought the name had something to do with corn on the cob rather than leftovers! I adapted it from Ivy Manning's recipe in Cooking Light. I wonder if it is a Cobb salad if it doesn't have cheese? Thinking back, shredded cheddar cheese might have made a welcome addition to my adaption of the salad!
Southwestern Cobb Salad
Ingredients
Vinaigrette:
* 3 tablespoons red wine vinegar
* 1 teaspoon honey
* 3/4 teaspoon ground cumin
* 1/2 teaspoon smoked paprika
* 1/2 teaspoon garlic powder
* 1/4 teaspoon ground red pepper
* 2 tablespoons olive oil
Salad:
* 4 slices center-cut bacon
* 8 ounces skinless, boneless chicken breast, cut into 1/2-inch pieces
* 1/4 teaspoon salt
* 1 teaspoon olive oil
* 8 cups greens (various types of lettuce, spinach)
* 1 tablespoon chopped cilantro
* 1/2 cup grape tomatoes sliced in half
* 1/2 cup diced avocado (I used the whole avocado)
* 1/4 cup chopped green onions
* 1 (15-ounce) can low-sodium black beans, rinsed and drained
Preparation
1. To prepare salad, cook bacon on a foil cover cookie pan in oven at 350 until crispy. Cool and crumble to add to salad.
2. To prepare vinaigrette, combine first 6 ingredients in a medium bowl, stirring with a whisk. Gradually add oil, stirring constantly with a whisk; set aside.
3. Arrange 2 cups lettuce on each of 4 plates. Top each serving with about 2 teaspoons bacon, 5 tablespoons chicken, grape tomatoes, 2 tablespoons avocado, 1 tablespoon onions, and about 1/3 cup beans. Drizzle vinaigrette evenly over salads.
I decide to not use all the beans on the salad since there was a yummy looking recipe on the Kroger can.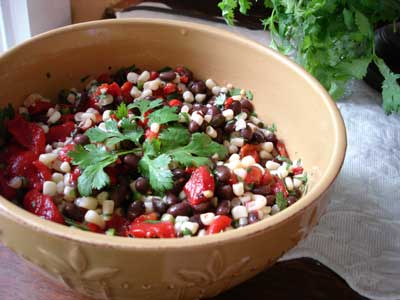 picture from grouprecipes.com
Corn And Black Bean Salad
1 15 oz can black beans
1 12 oz can whole kernel corn
1 medium tomato, finely diced
3 green onions, finely diced - use red onions instead (1/4 cup)
1/4 c lime juice
1 t cumin powder - use fresh cilantro instead (2 Tablespoons chopped)
I used 12 oz of organic frozen corn and replaced the cumin powder with fresh cilantro! I also used red onions instead of green. I don't usually like bean salad of any kind, but this was very yummy.
It's was nice to have so many fresh veggies on my plate. Any favorites on yours?