I made these Dresdens last year in the spring time in my quilt along. The kids call this the flower quilt: Happy Dresden Flowers. I was too lazy to take pictures of it earlier in winter light. I've been a terribly lazy photographer and actually have two finished quilts that met the same fate. Once a finished quilt ends up on a bed it doesn't get its picture taken. It might take another year to get this finished so I'd better share the work in progress.
I chose the Irish chain because there was space and I was on a nine-patch kick for a while last year. It just seemed more fun than sashing. I already have the hand quilting pictured in my head for those spaces.
I figured out how to paper piece the traditional ice cream border using Golden Threads tracing paper. Yeah... I have to get to that part. There doesn't seem to be a tutorial on this at all and most Dresden quilts today use a solid border! I spent hours looking in frustration, but I didn't find anything that looked right.
Michelle
had a beautiful picture of her grandmother's quilt that she sent me a pattern tracing of, but I realized that I had to increase or decrease the size to make it work along two 18 inch blocks. So...
On the copier, I messed with
this pattern
, called the Friendship Ring or Aster Quilt in this book, until I had the right widths to fit my quilt. Yeah, fancy borders have lots of math.
I am not sure you have heard of Ruby McKim and her patterns, but she was one of
the
top quilters of the 30s. Her work was published in
One Hundred and One Patchwork Patterns
in 1931. Many of her patterns were released in magazines and newspapers and she sold
quilt kits and precut kits
associated with her book. I bet you she would have been a popular blogger today. The book is free online now at her family's
website
and worth a look through! Some of her embroidery patterns like Roly Poly Circus are still being sold. I adore
Monica's
. When I saw the hand writing on most of the patterns I let out an squeak since I had it in my sewing room the whole time! (The garish 1962 version instead of the soft lavender 1931 version.)
Here is one of my favorite parts.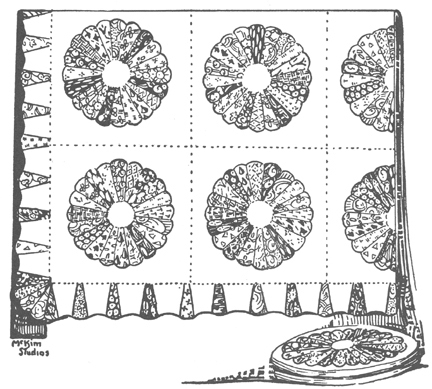 THE DRESDEN PLATE QUILT


A PICTURESQUE quilt named for exquisite old-world china comes to us as the Dresden Plate. It must be of dainty colors, irregularly placed so the whole will blend as a flower garden.

Our pattern, No. 419 at 10c, gives cutting units for blocks and border, even for the border corner, with instructions. Or this pattern sheet is included in order 419A at 20c which also has twenty different ready-cut prints for one block. These are finest 80-square prints, specially selected patterns in lovely light colors, and enough for 20 blocks ready-cut is order No. 419X at $.2.00; or No. 419M at $4.00 includes the 20 background squares and ready-cut border for foot and sides. It is left straight across the top.
So, if you were wondering if I got to play with my fabric yesterday, I did at 11:00 at night and should have my units completed for a Supernova block today. Yay! My giveaway comments will also close today. If you haven't entered today is your last chance!
I am adding this to
Whoop Whoop Friday
and see you Monday!