The baby sized Single Girl is finished.
The half square triangle borders were scrapped and I followed Denyse's pattern. I like how the rings take center stage. Every picture I take of these Garden Party fabrics come out a little different, but take my word they look fabulous in real life. I will be hand quilting it in a violet.
Eight rings of my Katie Jump Rope are finished, but I needed a break from it all. This is
the
postage stamp box that got my attention.
With a bit more of mindless cutting and sewing 1 1/2 inch strips, I have enough pairs, fabric and white background, cut for 16 blocks. Whoohoo! There will be 6,400 squares of fabric when this quilt is finished. I guess it makes sense that it took until March to have it all cut out. It takes about three hours to put one block together so I am glad I doing a block per month. What a break, huh?
I entered my postage stamp block and my winning cathedral window block in
Quilt story's block contest
. I want to thank those judges who voted on it. I love the trophy Heather and Megan. :)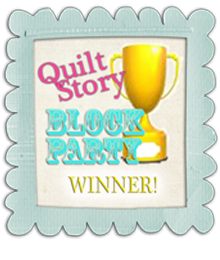 I won a gift certificate for some beautiful fabric available from
The Fab Store
. I bought some red and white for a redwork project this Christmas
Redwork Rendezvous- Alex Anderson
and some Art Gallery fabric.
Alhambra and Girly Girl Art- Gallery Fabrics
You can visit Becky's shop, The Fab Store,
here
at esty! If you can't resist... Becky is offering a coupon, SOHAPPY10, 10% off, until April 11.
I want to have some fun and I thought I might share 4 fat quarters of the Art Gallery fabrics with you. (Doesn't it look so good with the Kona Aqua?) So... let's have a giveaway.
Let me know, in your comment, what small project you have seen on a sewing blog, that would work with these four fat quarters.
I need a break from all my long term projects that don't seem to have an end in sight. The comments will close this Friday. Are you in? One comment for an entry and you must be/become a follower. A random generator will be used to select the winner on Monday. So let's hear those suggestions!
This post will be joining other creative posts at
Sew and Tell
,
Sew Modern Monday
, and
Fabric Tuesday
.