QuiltStory is hosting a Block Party. I have decided to enter these two blocks.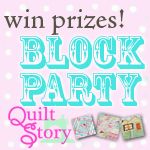 The first is my postage stamp block.
It measures 20 by 20 inches and is made of 400 random one inch pieces. I plan to make more of these in a block of the month format to have a finished quilt at the end of the year. It has some has favorites from 2010: Kona, Michael Miller and, my favorite, Holiday Happy from
Happy Zombie
.
The next block is from my Cathedral Window quilt. The units are sewn by machine and each window is hand appliqued. My goal this year is one-window-a-day and so far I have kept up and have 38 windows completed. Whoohoo! I am usually a terrible procrastinator.
Both will be entered in the traditional category.
Have you entered a block? Make sure to visit all the wonderful blocks entered
here
.